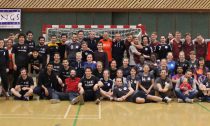 Newcastle Vikings' ladies reclaimed their Tyneside Handball Tournament crown on Saturday, as the University of Strathclyde won the men's competition in a fast-paced action-packed day of handball.
Hosted by Newcastle Vikings Handball Club, the annual tournament, now in it's third year at South Shields' Temple Park Leisure Centre, welcomed men's and women's teams from across northern England and Scotland competing in the group stages, play-offs and finals.  Newcastle Vikings' men took on the newly-established Sunderland side, combined teams from York Hunters-Durham University and Edinburgh-Newcastle, the University of Strathclyde and reigning two-time champions Glasgow, while the Vikings women were up against Durham University, the University of Leeds and Edinburgh.
Edinburgh's draw with Durham University in the last of the women's group...
Read More