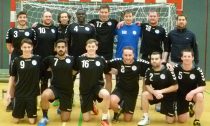 Newcastle Vikings' men ran out to a 24-11 home victory over Liverpool Speke Garston in the England Handball North Regional Development League on Sunday, as the Vikings ladies were unlucky to fall to their third consecutive single-goal defeat.
A busy day of handball action at South Shields' Temple Park Leisure Centre began with the morning's second round of the Under 16 Tyne & Wear County handball trials, with 22 girls and 11 boys turning up be put through their paces as they push for selection for the first County junior handball teams.
Newcastle Vikings and Liverpool's women then took to the court for their first league meeting of the season.  The away team grabbed an early lead before centre Maren Liane fired in a cracking brace of goals to level things up and captain Sandra Christke struck a quick hat-trick from the line position...
Read More