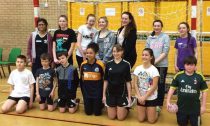 Junior handballers took the spotlight on another busy day of handball action at Temple Park Leisure Centre on Saturday 18th March.
The morning saw over 30 girls and boys gather at the South Shields venue for the third round of the Tyne & Wear County Handball Trials, all vying to be selected for a place in the first Under-16 county handball teams.
They were followed by a mini-tournament of mixed 5-a-side handball matches between some of Newcastle Vikings' junior players, all cheered on by lots of family supporters.
The Purples opened with 3-0 and 4-1 wins over the Reds and Greens respectively, before the Reds defeated the Greens 1-0.  The Reds and Purples then drew 4-4, before the Purples won 6-5 over the Greens and the Greens then beat the Reds 2-1.
The undefeated Purples won the competition with 11 points, ahead of the Reds on 7 and Gr...
Read More