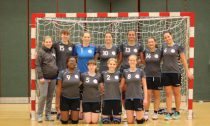 Newcastle Vikings women's team came within just one goal of causing an unexpected upset in their top-of-the-table England Handball North Regional Development League match against a strong Peninsula side on Saturday.
A busy day of handball at South Shields' Temple Park Leisure Centre began with the morning's Under 16 Tyne & Wear County handball trials.  20 girls and eight boys selected following last month's Handball Schools Festival turned up for the first round of trials in front of a large crowd of family supporters, with the second round due to take place on Sunday 12 February ahead of the Vikings' home matches against Liverpool women and Liverpool Speke Garston men.
Newcastle Vikings ladies took an early lead in the following league match, the opener appropriately scored by captain Sandra Christke on her birthday...
Read More