Newcastle Vikings Handball Club have become the only handball club in England to achieve the prestigious Clubmark accreditation.
Clubmark is a national accolade for sports clubs, awarded in recognition of achieving high quality standards in child welfare and protection, coaching, club management and a range of other measures designed to ensure the club is well managed.
The award was presented by Tyne & Wear Sport at the club's training session at Temple Park Leisure Centre in South Shields. Presenting the award, Jade Mackie from Tyne & Wear Sport said, "I want to commend all involved with the club on attaining this prestigious recognition. Everyone at the club works extremely hard to raise the profile of handball across Tyne and Wear and the club is committed to offering activity to all of its members irrespective of what level they are at."
As well as training regularly at both South Tyneside and the Percy Hedley Sports Academy in Killingworth, Newcastle Vikings Handball Club also spend a lot of time visiting schools to introduce the sport during PE lessons and at after-school clubs.
Head Coach Marlen Slinning said, "We are very proud to have achieved the Clubmark award. We are a club for all members of the family and the award will show that we provide a safe and well run sport for anyone wanting to come and try it. We already have good adult male and female teams here, but would love to have more younger members here and hopefully this accreditation will encourage more parents to bring their children along to give it a try."
John Thomason from England Handball said, "Newcastle Vikings are a great example of a club that is promoting best practice on and off the court, and that is reflected in their achievement of being awarded Clubmark. The partnership approach with Tyne & Wear Sport that the club has adopted in reaching this goal has set an example to other handball clubs across the country."
Handball is a team sport which involves two teams of seven players; it is played at an extremely high pace and is suitable for males, females and juniors of all levels. There are now approximately 19 million people playing the sport worldwide and it has been an official Olympic sport since 1936.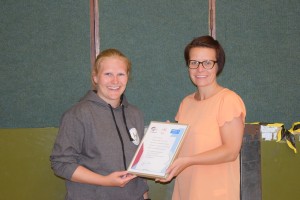 Jade Mackie (Tyne & Wear Sport) presenting the Clubmark award to Marlen Slinning and some other members of the Newcastle Vikings Handball Club.