On Saturday 26th April a 12-strong team of Newcastle Vikings men travelled to the North West for a friendly match against Manchester Handball Club. The Vikings were delighted to accept Manchester's invitation as this one off game provided a great opportunity to gain match experience and meet with other members of the Handball family.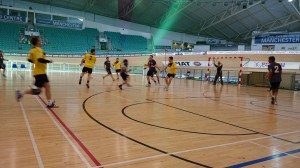 The Vikings arrived in good time at the impressive National Cycling Centre venue. The court lay in the middle of the velodrome where members of the British cycling team were being put through their paces There was enough time to watch the Manchester University women's team take on Ruislip before the men took to the court for a 3.30pm throw-off.
The match started at a high tempo with both teams getting on the scoresheet early on. Manchester clearly had some talented players but the Vikings managed to stay in touch through the first half. The court was wider than normal for the Vikings players so the wingers were used as much where possible to stretch the defence and create some gaps to exploit. Injuries and tiredness took their toll in the second half though, with Manchester running out comfortable 27-14 winners in the end.
The game w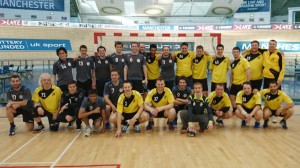 as played in a tremendous spirit and everyone had a smile on their faces throughout. It was a privilege for the Vikings players to play in such a prestigious venue against a great Handball Club. The Vikings would like to thank the Manchester players for all their hospitality, both on court and at the evening social. Let's do it again next season, but this time in Newcastle!