Newcastle Vikings Juniors Taste Debut Victory
Newcastle Vikings junior mixed handball team scored a winning debut this afternoon with a well played and entertaining 22-10 victory over Wallsend's Churchill Community College.
Playing three 15-minute periods of non-contact handball, after a quiet start as the players gradually got into the swing of things and both goalkeepers pulled off some good saves, Churchill took a 2-0 lead. But Newcastle soon pegged them back by the time of the first break thanks to 2 quick Tom Harrison goals.
The Vikings came out firing on all cylinders at the start of the second period, scoring five unanswered goals from Jamie Clark and Tom. The teams then traded goals apiece before the Vikings again took control to take a 13-6 lead into the second break, with Charlie Pears, James Porter, Ethan Patterson and Rebecca Johnson all getting on the scoresheet.
The third period saw Jamie and Tom each score a further four goals as Newcastle's better shooting accuracy increasingly overwhelmed Churchill, with James rounding off the scoring as the Vikings ran out deserved 22-10 winners in what was an otherwise fairly well balanced match that was thoroughly enjoyed by all 22 boys and girls.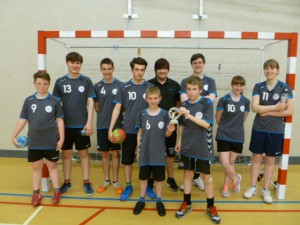 The Vikings would like to thank Churchill Community College for playing with great enthusiasm, and look forward to many more juniors matches as we continue building interest in playing handball in local schools.
Newcastle Vikings: 1 – Cameron (GK); 2 – Ethan (1 goal); 4 – Tom (8); 6 – Raymond; 7 – James (3); 9 – Morgan; 10 – Jamie (7); 10 – Krystina; 11 – Rebecca (1); 13 – Charlie (2).
Coaches: Marlen Slinning, Sofie Vaula, Rob Thompson
Referee: Craig Swanson