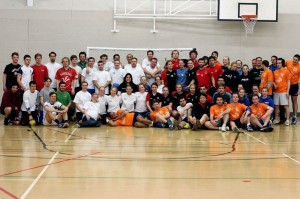 Last Saturday, 3rd of May 2013, the Vikings had the pleasure to host the 1st Newcastle/Scotland Handball Tournament at Percy Hedley, Killingworth.
Edinburgh Handball Club went home with a double victory achieved by their skilful men's and women's teams. The rest of us were left with the memory of a very fun, active and friendly afternoon. 
"Thank you so much to Newcastle for the Tournament yesterday. On behalf of everyone in our party I can without a doubt say that we all had a great time. Thank you to everyone who helped make it happen." – Edinburgh Handball Club.
Participating teams with men's and women's teams were: Newcastle Vikings, Edinburgh Handball Club, Dundee Handball Club and Sunderland University. Players from all over the world took part and made the day that bit more special. Some of the nationalities represented were: English, Scottish, Norwegian, Swedish, German, French, Spanish, Portuguese, Brazilian and Greek.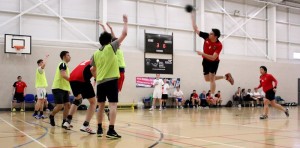 The tournament consisted of 6 men's and 3 women's matches. Refreshments and prizes were provided.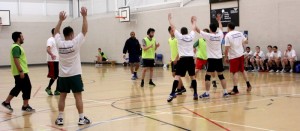 In true Geordie style, some of us celebrated the amazing day with drinks and dancing in the 'toon'.
Credits to the organizing team: Mariana Saba, Marlen Slinning, Clotilde Chereau, Damien Roux and Stelios Nikolaou. And thank you to all the players that took part.
Coming next: 2nd Newcastle/Scotland Tournament hosted in Scotland and Beach Handball Tournament.
Please contact us if you would like to join any of these teams.